William Morris 2017 Ebony Kaleidoscope Fan Table Runner Kit


ONLY 3 ITEMS LEFT!
Units in box: 1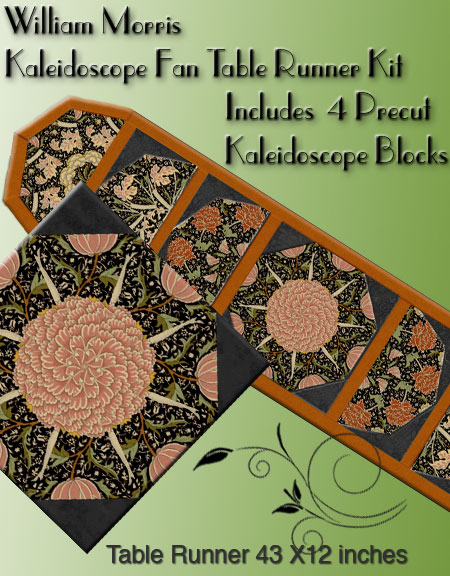 William Morris was an English textile designer and artist associated with the English Arts and Crafts Movement. William was the Morris in Morris, Marshall, Faulkner & Co. that profoundly influenced the decoration of churches and houses into the early 20th century. The kaleidoscopes for the table runner have been cut from this reproduction print by V and R Reproduction for Moda Fabrics. The colors include Amber, Spice Red, Cameo Pink, Sage and Olive Green, Natural , Ivory and Ebony.
Every set of Kaleidoscope Fans is unique and

addorn

either side of a unique focal kaleidoscope on this Table Runner.
This kit includes:
four

precut

Kaledoscopes
Fabric to cut and finish Table Runner top only.
Pattern
No batting or

backng

included.
© AvalonBloom 2023 - ALL RIGHTS RESERVED
Your Previously Viewed Items: