Queen Bee Sunflower Kaleidoscope Quilt Block Kit

ONLY 1 ITEM LEFT!
Units in box: 12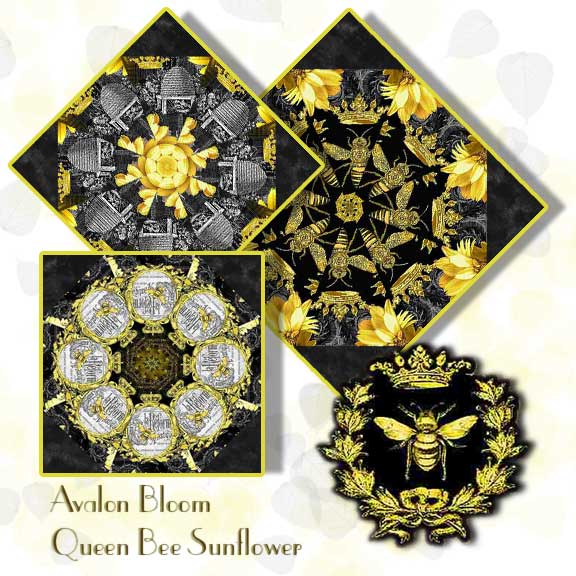 Surely every Queen Bee deserves a royal seal and some regal sunflowers to bask in. Depicted in this print is a royal seal befitting a queen and old fashioned wicker hives and intricate honeycombs with beautiful sunflowers. This is Queen Bee Sunflower,

Colors include Yellow, Gold, gray, and white on a black background. Queen bee Sunflower by Timeless Treasures Fabrics. The pattern is CD1351 Sunflower color Black.
Finished dimension for all blocks sewn togeth
er is 24 X 32 inches. Each block measures 8 1/2 inches square when sewn. Our Fast and Easy Blooming Blocks© are cut from 100 percent cotton fabric. Each block in the set will be uniquely different due to layering the fabric in exact repeats to create a kaleidoscope effect by precisely rotary cutting them.They are specially cut so that the centers will lie flatter and so there is no bias on the edges of the block so they lie flat in your quilt. You can put these blocks together in a quilt in different ways. Illustrated instructions included
to complete
the blocks that even a beginner can understand as well as bonus instructions for dimensions to include these blocks in a King, Queen, Double, Twin or Baby Crib, wall hanging quilt as well as a Table Runner or Placemats.
Suggested Kit amounts by size with the addition of sashes or borders etc.
Baby quilt 45X60 inches 1 kit
Twin 72X90 inches 2 kits
Double 81X96 inches 3 kits
Queen 90X108inches 4 kits
King 120X120inches 5 kits
© AvalonBloom 2023 - ALL RIGHTS RESERVED
Your Previously Viewed Items: