Tabby Road Disco Kitty Kaleidoscope Quilt Block Kit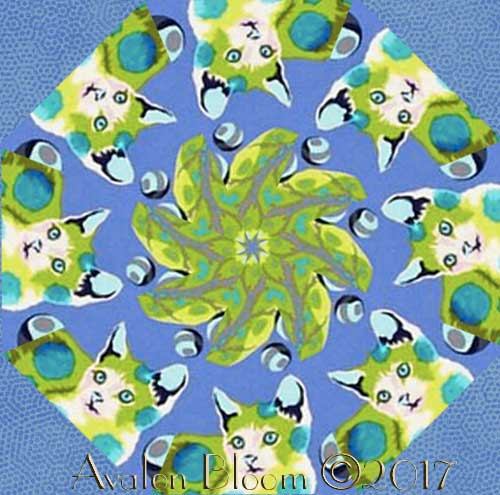 ONLY 0 ITEM LEFT!
Units in box: 12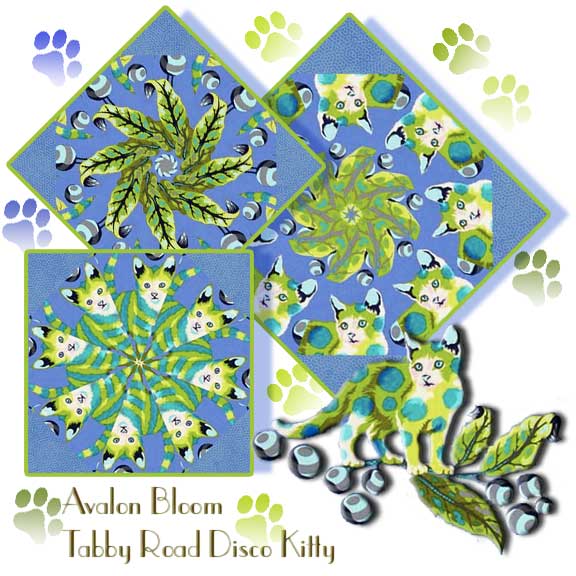 Tabby Road is the illustrated adventures of a fabulously sophisticated polka-dotted house cat with flare to spare and her sassy striped kitty sister. These two crazy kittens spend their days climbing delightfully proportioned banded fruit trees, chasing mice up and down elegant acanthus leaves for sport, coughing up brightly colored fur balls and ending their days with bellies full of artisan-crafted consciously canned, organic cat snacks. If ever there was a cat to envy, this is the one. Tabby Road is the life of the common house cat as seen through my eyes, transformed into an imaginary world of quirk and color, mischief and mayhem. Colors include Periwinkle, Chartreuse,Teal and Blue. Tabby Road Disco Kitty by Tula Pink for Free Spirit Fabrics # PWTP092.BLUEB. This is a kit to make 12 kaleidoscope blocks. 
Finished dimension for all blocks sewn together is 24 X 32 inches. Each block measures 8 1/2 inches square when sewn. Our Fast and Easy Blooming Blocks© are cut from 100 percent cotton fabric. Each block in the set will be uniquely different due to layering the fabric in exact repeats to create a kaleidoscope effect by precisely rotary cutting them.They are specially cut so that the centers will lie flatter and so there is no bias on the edges of the block so they lie flat in your quilt. You can put these blocks together in a quilt in different ways. Illustrated instructions included to complete the blocks that even a beginner can understand as well as bonus instructions for dimensions to include these blocks in a King, Queen, Double, Twin or Baby Crib, wall hanging quilt as well as a Table Runner or Placemats.
Suggested Kit amounts by size with the addition of sashes or borders etc.
Baby quilt 45X60 inches 1 kit
Twin 72X90 inches 2 kits
Double 81X96 inches 3 kits
Queen 90X108inches 4 kits
King 120X120inches 5 kits
© AvalonBloom 2022 - ALL RIGHTS RESERVED
Your Previously Viewed Items: